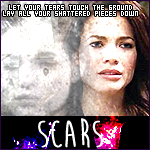 Update Link: Scars, Part 7
I really felt like the universe was conspiring against me for WEEKS, lol, to keep me from bringing this flash fiction back but we made it! Thanks for your patience 🙂
Just a few housekeeping things — I'm working on editing the first vlog for Writing Fool Me Twice, and I'm working on a schedule that actually makes keeping the channel updated something I can manage. One of the mistakes I was making was that I was trying to do a video in one sitting — from recording to editing to uploading — and that just wasn't possible. It's far easier to toss 30-40 minutes at something a few times a week instead of several hours.  I'm going to pick a day a week for a channel upload — I'm aiming for three writing related videos and one GH related video a month. This month:
September 7 – Writing Fool Me Twice, Books 2 & 3
September 14 – Crimson Glass Facelift
September 21 – Ranking Current GH Characters
September 28 – October Site & Story Status Update
I've also been writing over at my Genealogy blog, so if you're interested in the story of my great-great grandparents who lived in Camden, NJ around the turn of the century and were arrested for drinking, fighting, and stealing goats, then check it out.
Other than that, I've been prepping for the school year and writing Karma and Mad World. I'm off until Wednesday when the students return. Looking forward to it 🙂