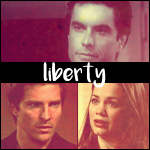 Update Link: Mad World – Liberty, Chapter 76
It feels almost surreal to be posting this update. I am beyond ridiculously excited to finally kick off Book 4. It's about six months later than I wanted it to be, but it's okay.  We made it.  New chapters will be posted every Wednesday at 7 AM. I really hope you enjoy it!
Book 4 is named Liberty, and here is the synopsis:
Set in February 2004. The city of Port Charles weathered many scandals and tragedies in 2003 — from the nearly tragic kidnapping of Carly Corinthos and attempted murder of Elizabeth Webber to the serial rapist that stalked the city for months, leaving victims broken and shattered in his wake. The PCPD, having sworn to protect the city, faltered when they learned one of their own was the villain all along.
A few months later, the city tries to recover but they should be careful what they wish for. Ric Lansing still haunts the dreams and memories of the people he damaged — has he really left Port Charles behind for good?
Dante Falconieri breaks under the weight of family secrets and his own weaknesses. Kelsey Joyce wants to find out who murdered her father—no matter what the cost. Carly Corinthos just wants to move on with her life and keep her family safe. And Elizabeth Morgan wants to forget that Ric Lansing ever existed as she awaits the birth of her son.
It's time close the book on this mad, mad, mad world.