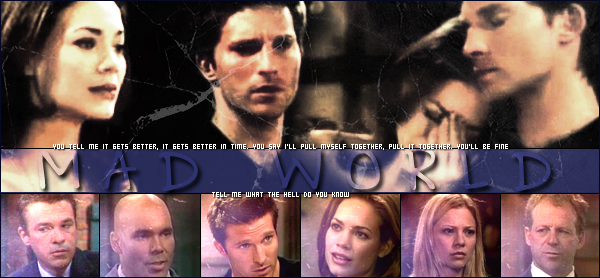 ---
On this page, you can find the full chapter listing for all the currently published chapters.
---
Book 1: Break Me Down

Set Summer 2003

Nine months ago, Elizabeth Webber stormed out of Jason Morgan's penthouse, declaring their fledgling relationship dead in the water. Even as they try to stay away from one another, the universe drags them back together. Scared and pregnant, she agrees to marry Ric Lansing despite his troubled past and hatred for Sonny Corinthos—Jason's best friend and his new fiancee's brother. Elizabeth soon suffers a miscarriage, putting her future with Ric in doubt.

The night Jason is due to marry Courtney Matthews, Sonny's pregnant wife, Carly, goes missing, and the only suspect is Ric. When Jason and Sonny arrive at the Lansing home, they find Elizabeth showing signs of being drugged, and Ric smugly declaring he never left the home. Before they can investigate further, the Port Charles Police Department gets involved, complicating everything. Jason and Sonny are not only searching for Carly, they're trying to fend off search warrants and vendettas.

Sonny starts to fall apart while Jason tries to get Elizabeth away from Ric and find out what happened to Carly. Elizabeth refuses to go—convinced she can do better to stay in the house and help Jason with access to Ric's papers and property. Nine months of staying away from one another hasn't changed anything, and the more they work together to find Carly, the more they remember exactly why they fell in love in the first place. Elizabeth's determination to find Carly may cost her own life—how much is she willing to risk?

Book 2: All of Me

Jason and Elizabeth are trying to put the last year behind them and look towards the future. As Elizabeth slowly recovers physically and emotionally from her marriage to Ric, she and Jason begin to build a life together.

A serial rapist is stalking Port Charles, leaving his young victims near park fountains in a violent echo of Elizabeth's own rape years earlier. Elizabeth believes her attacker is safely locked away, but Jason is keeping a secret that could destroy her hard-won security.

Then, the rapist strikes close to home — a daughter of one of the leading families in Port Charles. Is Elizabeth's rapist still out there? Can the PCPD find him before he strikes again?

Book 3: This Is Me

Set in November 2003. The park rapist has been arrested, but he thinks he has a get out of jail free card — pointing to the recent corruption scandals at the PCPD to argue he's been framed.

To make sure he goes away and his victims get justice, Scott Baldwin and Marcus Taggert have one more favor to ask of Elizabeth Webber — testify in a federal hearing to keep the department out of trouble — and to prevent her boyfriend, Jason Morgan, from testifying about a somewhat shady trip made to coerce the truth out of Tom Baker.

She won't be alone — Dante Falconieri has a tape of his cousin confessing — but the contents of that tape compounds the misery for Elizabeth as well as for grieving parents Ned Ashton and Lois Cerullo. Taking the stand against his family will lead Dante lead down a path from which there is no return and might cost him everything.

And as if that wasn't enough, Ric Lansing has disappeared without a trace, bringing back memories of last summer for Elizabeth and Carly Corinthos. Carly reluctantly returns home to husband, Sonny, but her nightmare is only just beginning.

The mad world of Port Charles continues.

Book 4: Liberty

Set in February 2004. The city of Port Charles weathered many scandals and tragedies in 2003 — from the nearly tragic kidnapping of Carly Corinthos and attempted murder of Elizabeth Webber to the serial rapist that stalked the city for months, leaving victims broken and shattered in his wake. The PCPD, having sworn to protect the city, faltered when they learned one of their own was the villain all along.

A few months later, the city tries to recover but they should be careful what they wish for. Ric Lansing still haunts the dreams and memories of the people he damaged — has he really left Port Charles behind for good?

Dante Falconieri breaks under the weight of family secrets and his own weaknesses. Kelsey Joyce wants to find out who murdered her father—no matter what the cost. Carly Corinthos just wants to move on with her life and keep her family safe. And Elizabeth Morgan wants to forget that Ric Lansing ever existed as she awaits the birth of her son.

It's time close the book on this mad, mad, mad world.