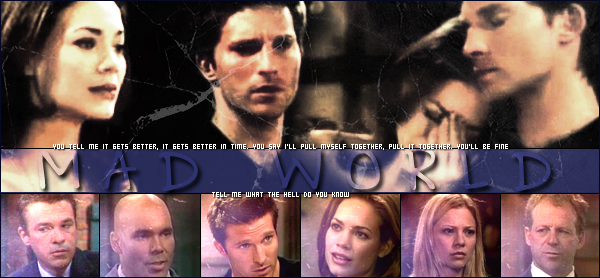 ---
Welcome to the sub-site for Mad World, my General Hospital trilogy. Mad World is set in the summer of 2003 and begins the day Jason was supposed to marry Courtney, but Ric kidnapped Carly and locked her away in a panic room.
In Book 1, Break Me Down, we visit the panic room storyline where Jason and Elizabeth work alongside Bobbie and the PCPD to find Carly. In Book 2, All of Me, Carly and Elizabeth begin to recover from the trauma they suffered at the hands of Ric while a serial rapist stalks young women in the park. Both of these books are already completed and ready to read!
Coming in October 2! Book 3, Liberty, will wrap up Carly and Elizabeth's struggle to put Ric behind them and get on with their lives. I'm currently drafting Book 3 now.
---
Update
18 June 2020: Released Mad World, Books 1 & 2 combined ebook. Organized the trilogy page and table of contents.
17 June 2020: Released Mad World, Book 2 in ebook. Tomorrow, I'll add the combined Book 1 & 2 ebook.
16 June 2020: Re-released Mad World, Book 1 in ebook form! It has been fully compiled for .epub, .mobi, and .pdf reading formats! Tomorrow or Thursday, I'll have Book 2 and I should have the double collection ready by the end of the week. Book 3's synopsis has also been added.
10 June 2020: Updated Characters page with Felix and Alan's pictures. I was plotting Book 3 and starting a scene with Felix before realizing I'd never put him with the cast!
8 June 2020: Site is completely online, content wise. I want to fix the way the reviews are formatted and I have to complete the ebooks, but I'm ready to start thinking about creating the next subsite.