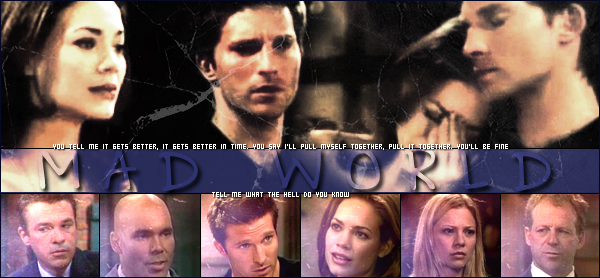 ---
Welcome to the sub-site for Mad World, my General Hospital series. Mad World is set in the summer of 2003 and begins the day Jason was supposed to marry Courtney, but Ric kidnapped Carly and locked her away in a panic room.
In Book 1, Break Me Down, we visit the panic room storyline where Jason and Elizabeth work alongside Bobbie and the PCPD to find Carly. In Book 2, All of Me, Carly and Elizabeth begin to recover from the trauma they suffered at the hands of Ric while a serial rapist stalks young women in the park.  Book 3, All of Me, followed Carly and Elizabeth dealing with Ric's escape and the fallout of the serial rapist case.
The finale, Book 4, Liberty, is currently being posted twice a week on Tuesdays & Thursdays.
---
Update
28 June 2022: Ebooks for Books 1 & 2 have been completely reformatted and reuploaded. Book 3 will be up next week.